Scroll for testimonials
"If you want a blueprint for a successful and purposeful life and want to truly understand what it takes to live the dream, I highly recommend you read Zoro's book, The Big Gig. You will be inspired beyond your imagination, in a profoundly deep and meaningful way."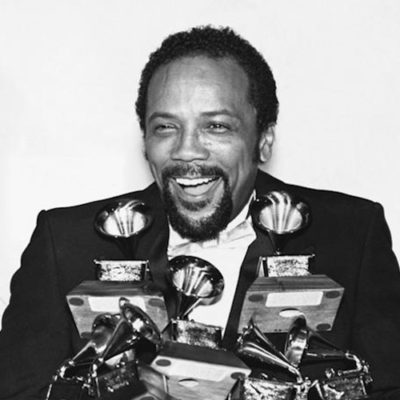 Quincy Jones
Grammy Award-Winning Producer for Michael Jackson, Frank Sinatra and Ray Charles
"Zoro's Big Gig book is a must-read for anyone who is chasing a dream and longs to strike that quintessential balance between life and art."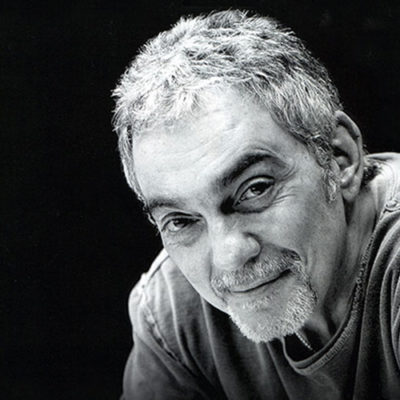 Steve Gadd
Drumming Legend
"Whether you aspire to tour with a rock band, play jazz in nightclubs, work in the studios, or perform with a symphony orchestra, there is information in this book that will help prepare you to make a living as a musician."
Rick Mattingly
Percussive Notes
"What a fabulous resource Zoro has compiled here! . . . This is a great book that is going to help many young musicians and drummers (amongst others) achieve their dreams with integrity. Five Stars!"
"A great book which genuinely can help people, not just drummers."
"Bottom Line: I highly recommend this book and I only wish that I had it when I started out in the music business! Whether you are a musician who specializes in drums or any instrument, you need this book. Without it, you'll waste years of your life figuring out all of the things that Z has already neatly laid out for you."
The Big Gig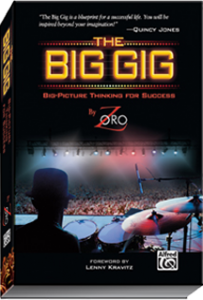 By Zoro with Amy Hammond Hagberg
The Big Gig is much more than just an intriguing and comprehensive insider's guide to breaking into the music industry as an independent musician.
Compelling and thought-provoking, it is an excellent resource for leadership training, networking techniques, and personal development. The Big Gig is the first book that describes the inner workings of the highly competitive music industry as seen through the eyes of a world-renowned and highly successful musician.
The Big Gig provides a template for success by covering the vocational, personal, and spiritual aspects of a musician's life. The Big Gig is much more than educational. It is inspirational, motivational, and life-changing.
BUY ON AMAZON
The Commandments of R&B Drumming Book and Instructional CD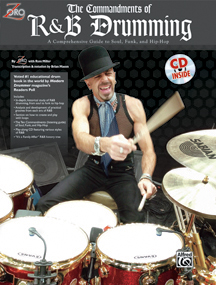 Revised 10-Year Anniversary Edition
By Zoro with Russ Miller
The Commandments of R&B Drumming is a historical and in-depth study of R&B drumming, from soul to funk to hip-hop, written by world-renowned session & live drummer Zoro (Lenny Kravitz, Bobby Brown, Sean Lennon). Topics include practice tips, developing the funky bass drum and hi-hat, creating and playing with loops, and what are considered the Ten Commandments of Soul, Funk, and Hip-Hop (the top ten recordings from each era).
This book not only pays homage to the R&B drummers of the past, but gives the reader a fortune of invaluable information both in history and playing.
This newly revised 10th anniversary edition features updated information and loads of new photos and album artwork throughout. It includes a play-along CD featuring various styles of R&B, and also includes an R&B history tree. 160 pages covering every imaginable angle, nook, and cranny of R&B.
The book was voted the #1 educational drum book in the world by Modern Drummer magazine's Readers Poll and also deemed "a must-have for the soulful drummer," by Traps Magazine.
BUY ON AMAZON
"Zoro's Commandments of R&B Drumming book series is a milestone achievement and the most comprehensive set of books on the subject of R&B drumming I've ever seen."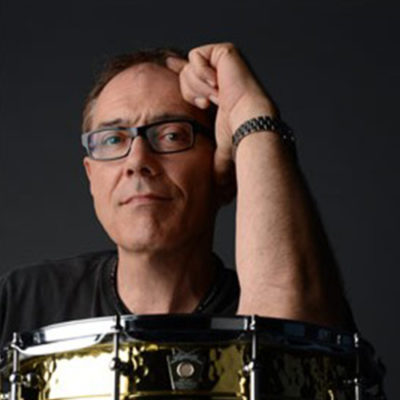 Vinnie Colaiuta
Drumming Legend
``I consider Zoro's Commandments of R&B Drumming book series an essential investment!``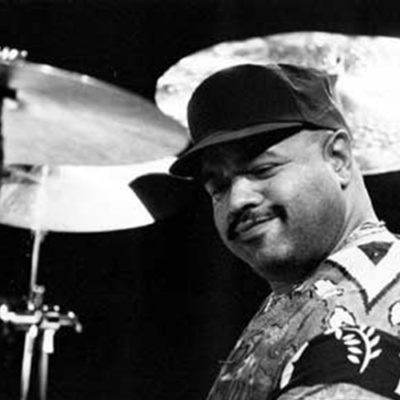 Dennis Chambers
Drumming Legend
The Commandments of R&B Drumming DVD
``10 Stars!!!!!!!!!! "As in his books, Zoro's attention to detail is superb. Commandments is an all-around ten-as in ten yards wide and ten miles deep. For players of all ages and all levels, this DVD is gold!!!"
Rich Watson
Modern Drummer Publications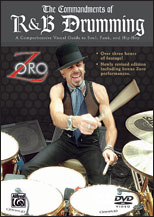 From the critically acclaimed book & best selling video series, The Commandments of R&B Drumming, now comes the long awaited and fully integrated DVD, complete with special features!
BUY ON AMAZON
The Commandments of the Half-Time Shuffle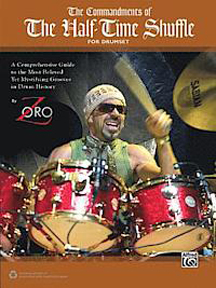 By Zoro
The Commandments of the Half-Time Shuffle is the first book dedicated exclusively to learning about and playing the half-time shuffle. Complete with historical analysis and overviews of the lineage of the style, the book will equip drummers with all of the necessary tools needed to conquer one of the most beloved, yet mystifying, grooves in drumming history.
The book features photos, album cover art, motivational quotes, recommended listening, as well as transcriptions of the most definitive half-time shuffle grooves. Gain insight and wisdom from Zoro, one of the legendary masters of R&B drumming, and master the language of the triplet—the foundation of all shuffles. The Commandments of the Half-Time Shuffle is highly innovative, informative, inspirational, and is sure to be a classic!
BUY ON AMAZON
"This is another excellent educational resource from Zoro and could very well be the definitive volume on shuffles."
The Commandments of Early Rhythm and Blues Drumming
"This book/CD package is well researched, clear in its goals, and enlightening and inspiring in its approach. Keep this one on your bottom shelf; you're going to want to return to it again and again."
"Simply put, this is an essential requirement for every drummer's library."
"I am so impressed with what Daniel and Zoro have done to secure the heritage of the modern drum set. The Commandments of Early Rhythm and Blues Drumming is a must—every inspired drummer needs to experience and learn from this masterpiece. The book will take you on a journey through our history—and knowing where we came from will assist us in our vision for the future! Thank you both for your hard work, so that generations ahead of us can forever enjoy this magical era!"
Rick Mattingly
Dom Famularo Drumming's Global Ambassador
"In the modern era of R&B drumming, there aren't too many drummers more qualified than both Zoro and Daniel Glass who could have tackled this subject matter with as much passion as these gentlemen have . . . Anyone wanting to delve into the roots of modern hip hop and R&B will want to look no further than this resource; it's excellent in every regard."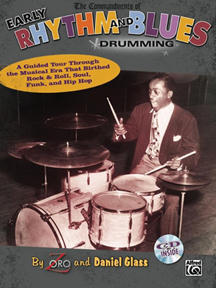 A Guided Tour Through the Musical Era That Birthed Rock 'n' Roll, Soul, Funk, and Hip-Hop
By Zoro and Daniel Glass
Eight years in the making, this "prequel" to The Commandments of R&B Drumming delves into the rhythm and blues of the 1940s and 1950s, an incredible musical era when shuffles ruled the airwaves and modern groove playing was in its infancy. Written by Zoro and Daniel Glass, drummer for Royal Crown Revue, this book is loaded with history, photos, graphics, exercises, and transcriptions, and includes the most comprehensive guide to shuffle playing ever written.
BUY ON AMAZON
Zoro "The Minister of Groove" CD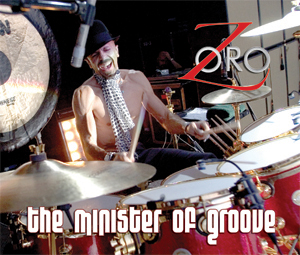 AVAILABLE AT LIVE ZORO EVENTS ONLY!
Personally Autographed by Zoro!
*Re-mastered with bonus LIVE tracks
Take a funky walk with Zoro through some of R&B's greatest hits on his new re-release of a classic. Zoro is joined by legendary Earth, Wind and Fire guitarist, Al Mckay, as they kick their way through hits like:
– Bustin Loose
– Think
– Jupiter
– Groove Me
– Old Landmarks
– Super Bad, Super Slick
– Love Land
– Hey Pokey Way
– and more!!
This re-release has been re-mastered with the addition of three bonus tracks featuring Zoro live! You'll want to hear his blistering solo work over and over as he cuts it up live! Get your today while limited supplies last!
The Commandments of R&B Drumming Play-Along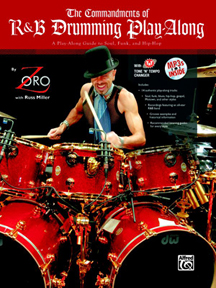 By Zoro with Russ Miller
Featuring 14 of the funkiest tunes in such styles as gospel, blues, soul, funk, go-go, new jack swing, and hip-hop, this play-along package chronologically documents the evolution of R&B drumming from the 1950s through the late '90s. Included are songs made popular by R&B legends such as James Brown, The Meters, Aretha Franklin, and Janet Jackson. The CD tracks are performed by an all-star R&B band featuring Al McKay, the legendary guitarist of Earth, Wind & Fire. The book also provides historical insight, tips for approaching the music, groove examples, rare photos, and album cover artwork.
BUY ON AMAZON
Zoro Signature Bass Drum Beater!

For that super phat, full, funky sound, nothing beats the square! It takes the right tools to get the hotfoot rolling.
Zoro Signature Stick
Long-time sponsor Vic Firth is the place to find the Zoro's signature stick. Now you can be pounding the skins with the same tools Z uses every gig.
Buy at Vic Firth!
BUY AT VIC FIRTH!

Sabian Groove Hats and Groove Ride HHX
"Modern Drummersays, "The 21" HHX Groove Ride has a lot of what has always appealed to the aficionados of old Turkish-made rides. It's thin design offers plenty of "wash" and trashy ride qualities jazz players drool over. On the other hand, the bell – which is usually non-existent on a ride such as this – is thick, solid and direct."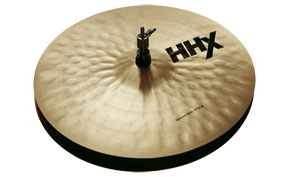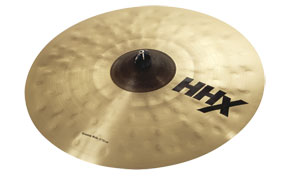 BUY AT SABIAN!